2019 Sophie James Pinot Noir MAGNUM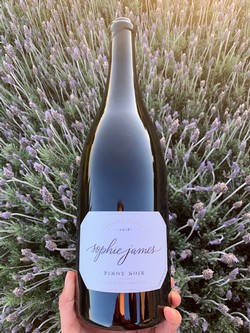 2019 Sophie James Estate Pinot Noir MAGNUM
The Sophie James 2019 Estate Pinot Noir is sourced entirely from Pinot Noir organically grown on the Sophie James Estate property at 2,340 feet elevation, at the very top of Sonoma Mountain.

The vineyard's distinct terroir, a combination of rocky volcanic and red loam clay soils, high elevation, the extreme mountaintop climate, and its severe weather fluctuations - coupled with organic farming - contributes to the perfect storm for premium-quality fruit-bearing the unique aromatic and flavor profiles of one of Northern California's coveted mountaintop vineyards.

Sophie James' estate pinot noir was hand-harvested the night of September 18th, 2019 to take advantage of the cool, foggy conditions before sunrise. The fruit was 10% whole-cluster foot-tread upon arrival at the winery. The remainder was destemmed and moved into stainless steel tanks for fermentation, then pressed and transferred to age in a combination of new and neutral French oak barrels.

Crushed red raspberries, orange peel, rose petal, fresh mint & volcanic earthiness.

VERY IMPORTANT SHIPPING NOTICE
Orders placed after November 15th will ship in early December.
Please allow for up to 7 days for processing, & shipping. If you will be working from home over the next few weeks, please list your shipping address accordingly. Returned or rerouted shipments may incur an additional shipping fee. Thank you!!
SHARE WITH US!
We love to see how Sophie James wine brightens your day. Please share & tag us @sophiejameswine on Instagram so we can say hello!