2019 Sophie James Rosé of Pinot Noir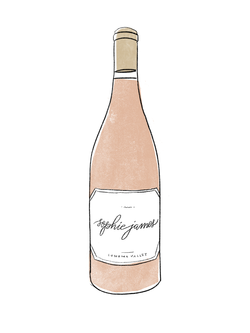 2019 Sophie James Rosé of Pinot Noir

The Sophie James 2019 Rosé of Pinot Noir comes from a small CCOF-certified organic vineyard at the very southern tip of Sonoma Valley. Cool evenings and early morning fog from the San Francisco Bay provided for a long, cool growing season that is perfect for Pinot Noir.
The 2019 Pinot Noir destined for Sophie James rosé was hand-harvested in the early morning on September 5th, 2019 to preserve the fruit's natural acidity and bright, fresh aromas and flavors. Upon arrival at the winery, the Pinot was whole-cluster pressed to tank to settle overnight. In the morning the juice was racked to stainless steel tanks for a long, cool fermentation. Aged for four months on light lees in a mix of stainless steel and neutral oak barrels before bottling on February 3rd, 2020.

Tart strawberry, watermelon, lime juice, white nectarine, river rocks, white flowers & sea salt.